SGT-400 Courtesy from Siemens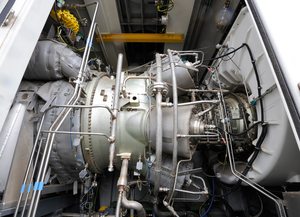 SGT-400, courtesy from Siemens
The SGT-400 is a twin-shaft gas turbine available in two different power ratings for both power generation and mechanical drive applications. The twin-shaft arrangement allows for commonality of parts in mixed-duty installations.

The gas turbine offers the highest efficiency in its power class, incorporating the latest aerodynamic and combustion technologies. With over 25 years of operating experience, the SGT-400 is proven in both offshore and onshore applications.
Over 300 units have been sold with approximately 3 million hours operating experience.
· Latest aerodynamic and combustion technology
· Suitable for all climates, onshore and offshore
· High power-to-weight ratio
Parameter

SGT-400

11 MW

Power Generation

SGT-400




11 MW

Mechanical Drive

SGT-400




13 MW

Power Generation

SGT-400




13 MW

Mechanical Drive

SGT-400




15 MW

Power Generation

SGT-400

15 MW

Mechanical Drive

Power Output
10.4 MW(e)
10.8 MW
12.9 MW(e)
13.4 MW
14.3 MW(e)
14.9 MW
Frequency
50/60 Hz
50/60 Hz
50/60 Hz
50/60 Hz
50/60 Hz
50/60 Hz
Efficiency
34.8%
36.2%
34.8%
36.2%
35.4%
36.8%
Heat Rate
10,342 kJ/kWh
9,943 kJ/kWh
10,355 kJ/kWh
9,943 kJ/kWh
10,178 kJ/kWh
9,774 kJ/kWh
Pressure Ratio
16.0
16.8
16.8
16.8
18.9
18.9
Exhaust Mass Flow
33.8 kg/s
39.4 kg/s
39.4 kg/s
39.4 kg/s
44.0 kg/s
44.0 kg/s
Exhaust Temperature
508 ºC
555 ºC
555 ºC
555 ºC
540 °C
540 °C
Turbine Speed
11,500 rpm
5,750-11,500-12,075 rpm
9,500 rpm
4,750-9,500-9,975 rpm
9,500 rpm
4,750-9,500-9,975 rpm
NOx Emissions
25 ppmvd
25 ppmvd
15 ppmvd
25 ppmvd
15 ppmvd
25 ppmvd
Twin shaft

11 compressor stages

6 reverse-flow cannular combustion chambers

DLE system

2 gas generator turbine stages

2 power turbine stages

Approximate weight: Power Generation: 84,000 kg