SGT-600 Courtesy from Siemens
High reliability and availability in combination with good fuel flexibility and third-generation DLE makes the SGT-600 a perfect choice for several onshore applications: Industrial power generation, oil and gas power generation, and mechanical drive applications.
Within the IPG applications, the turbine performs well in combined heat and power plants, and combined cycle plants. The industrial gas turbine combines a robust, reliable design with high fuel flexibility, and low emissions.
More than 330 units have been sold with over 9 million equivalent operating hours, and 185,000 equivalent operating hours for the fleet-leading gas turbine.
· Robust, reliable design
· High fuel flexibility
· Low emissions
| Parameter | Power Generation | Mechanical Drive |
| --- | --- | --- |
| Power Output | 24.5 MW | 25.2 MW |
| Frequency | 50/60 Hz | 50/60 Hz |
| Efficiency | 33.6% | 34.6% |
| Heat Rate | 10,720 kJ/kWh | 10,390 kJ/kWh |
| Pressure Ratio | 14.0 | 14.0 |
| Exhaust Mass Flow | 81.3 kg/s | 81.3 kg/s |
| Exhaust Temperature | 543 ºC | 543 ºC |
| Turbine Speed | 7,700 rpm | 3,850-7,700-8,085 rpm |
| NOx Emissions | 15 ppmvd | 15 ppmvd |
Single shaft
10 compressor stages

Can combustion type

2 gas generator turbine stages

2 power turbine stages

DLE system

Approximate weight: 59,000 kg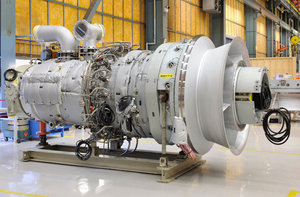 SGT-600, courtesy from Siemens